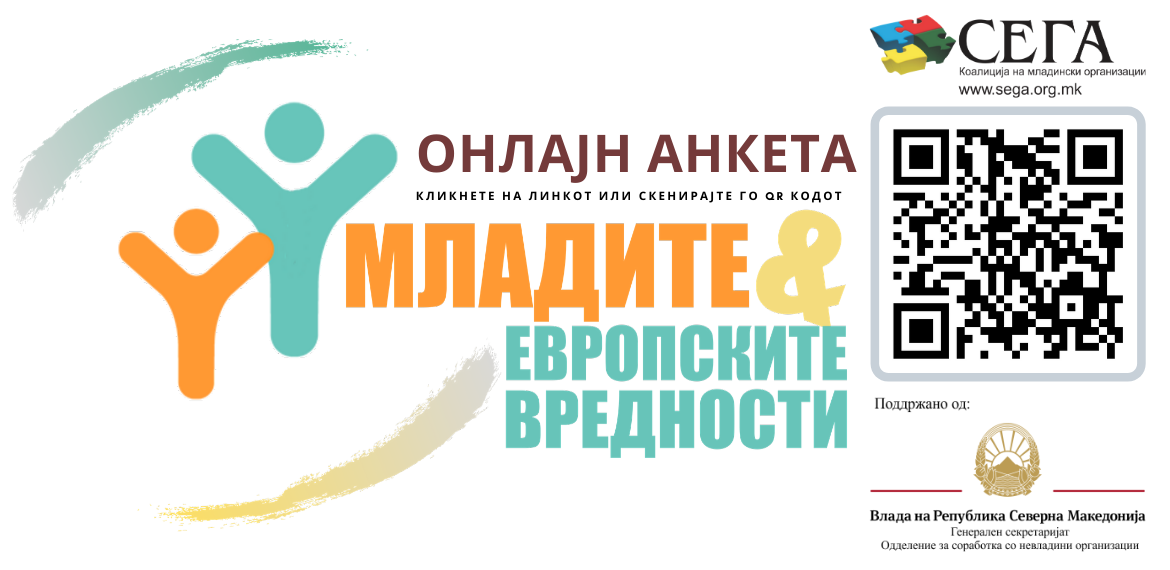 Survey "Youth and European Values Survey"
Coalition SEGA is leading the project "Youth and European Values" which is financially supported by the Government of the Republic of N. Macedonia through the Program for financing the program activities of associations and foundations.
The project aims to contribute to a developed and sustainable civil sector that adequately addresses the needs of young people in the Republic of North Macedonia. According to the needs of youth CSOs, the project provides a methodology that encompasses two key segments aimed at strengthening the capacity of youth organizations in our country to promote European values in line with European trends and practices:
The process of strengthening the capacity of youth organizations in Macedonia to promote the European values of youth
Promotion of European values among young people at local and national level.
As part of the project, SEGA will conduct an online survey - the Youth and European Values in order to examine young people's opinion regarding the promotion, respect and promotion of European values in our country, as a candidate country for European Union.
By taking part in the survey, young people aged 15 - 29 will have the opportunity to contribute to stimulating an overall debate on youth and European values, as well as expressing their views and sharing experiences on European values: volunteering, social youth involvement, intercultural and inter-religious dialogue, fundamental rights and shared values, critical thinking, media literacy and initiative.
We invite young people to participate in the survey by filling out the survey at the following link.
At the same time we emphasize that the support of the CSOs will mean us, and therefore we invite them to share the survey link with their young members, volunteers and beneficiaries.
---