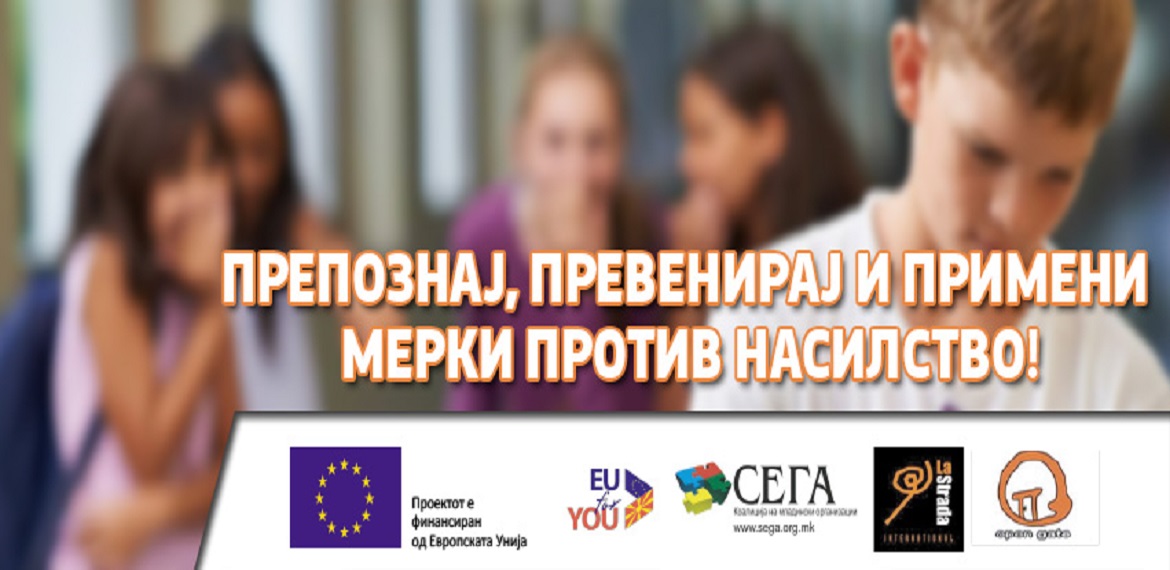 Coalition SEGA is Starting the Campaign "Recognize, Prevent and Apply Anti-Violence Measures"
Description of the project:
Coalition of youth organizations SEGA implements the project "Recognize, prevent and apply anti- violence  measures" supported by the EU within the project "Strategic partnerships for developing a social agenda for change:" Recognize, respect and realize rights "implemented by the Association for Action Against Violence and Human Trafficking Open Gate: La Strada Internation.
The main objectives of the project are to improve school measures for safety and strengthen the capacities of state and local institutions for addressing, preventing and dealing with violence in educational institutions. The project includes cooperation with 15 high schools from different municipalities, in which a series of activities will be implemented in the period from April to July 2019.
Description of the campaign:
In partnership with 15 high schools and 5 non-governmental organizations across our country, Coalition SEGA will lead the campaign "Recognize, Prevent and Apply Anti-Violence measures" within the same project. The campaign aims to raise awareness of the existence and prevention of violence among students.
Another aim of the campaign is to disseminate information about violence in schools. Schools and NGOs should provide resources to help the young people and so they can become advocates for stopping bullying in their schools.
Duration of the campaign: The campaign will be conducted on social media in the period from May 15 to July 31, 2019.
Every week, three online leaflets will be published on the official website of the project (Link) and on the official websites of schools and non-governmental organizations in order to raise awareness among students and youth about the prevention of violence in schools.
---