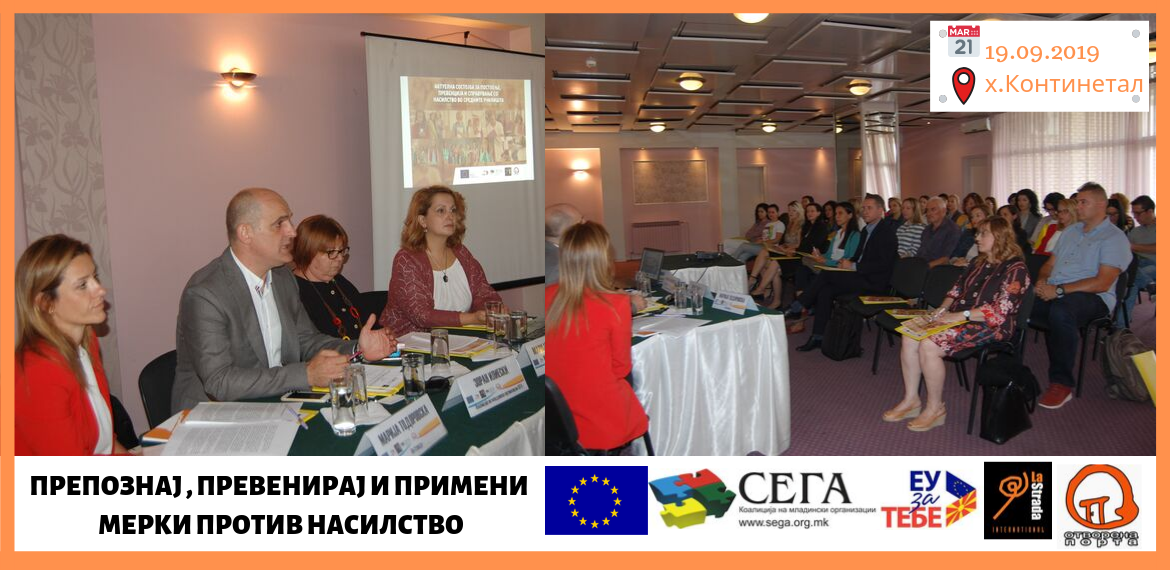 Coalition SEGA Held Conference On The Topic "How To Improve The Measures For Stopping And Preventing Violence In The School"
On 19.09.2019 in h. Continental in Skopje was held Conference on the topic "HOW TO IMPROVE THE MEASURES FOR STOPPING AND PREVENTION OF VIOLENCE IN THE SCHOOL" organized by the Coalition of youth organizations SEGA.
The conference was attended by 50 representatives of the secondary schools involved in the project "Recognize, Prevent and Applying Anti-Violence Measures", representatives of the Centers for Social Work, Bureau of Education, MoES, Committee for the Prevention of Violent Extremism and the Fight against Terrorism, etc. At the conference was also presented the Analysis on "Current Situation of Existence, Prevention and Management of Anti-Violence in High Schools".
Zoran Ilieski, Executive Director of Coalition SEGA said: "This conference will bring new experiences and practices in recognizing and preventing violence in schools. Of particular importance is this community project, especially as we have witnessed more and more cases of violence in schools lately, due to a variety of factors, which in turn contributes to the emergence of different forms of violence. The results of the survey showed that 70% of the respondents (high school students) consider that violence in their schools is present, while 18% of the students think that the violence never happened in their school. This project investigated an important segment of the real situation in schools regarding measures to prevent, identify and deal with student violence. "
Marija Nashokovska, an external contributor, stated: "The findings of the analysis showed that the most prevalent of the verbal and social violence in the schools, ie 35% of the respondents chose these two types of violence, while physical violence was the third. Gossiping and spreading lies to someone (48%), as well as mocking and humiliating someone (45%) are the most prevalent forms of student violence. Almost half of the respondents think that boys and girls alike practice violence in schools, while 41% think boys are more prone to violence. "
Students are likely to lack the courage and confidence to take action in the event of violence, even though they themselves are aware that they need to do something. For 45% of the respondents, the reaction of the authorities should be much faster and more appropriate. Only 23% of students are satisfied with the involvement and intervention of school authorities.
More pictures of the Conference can be found at the following link.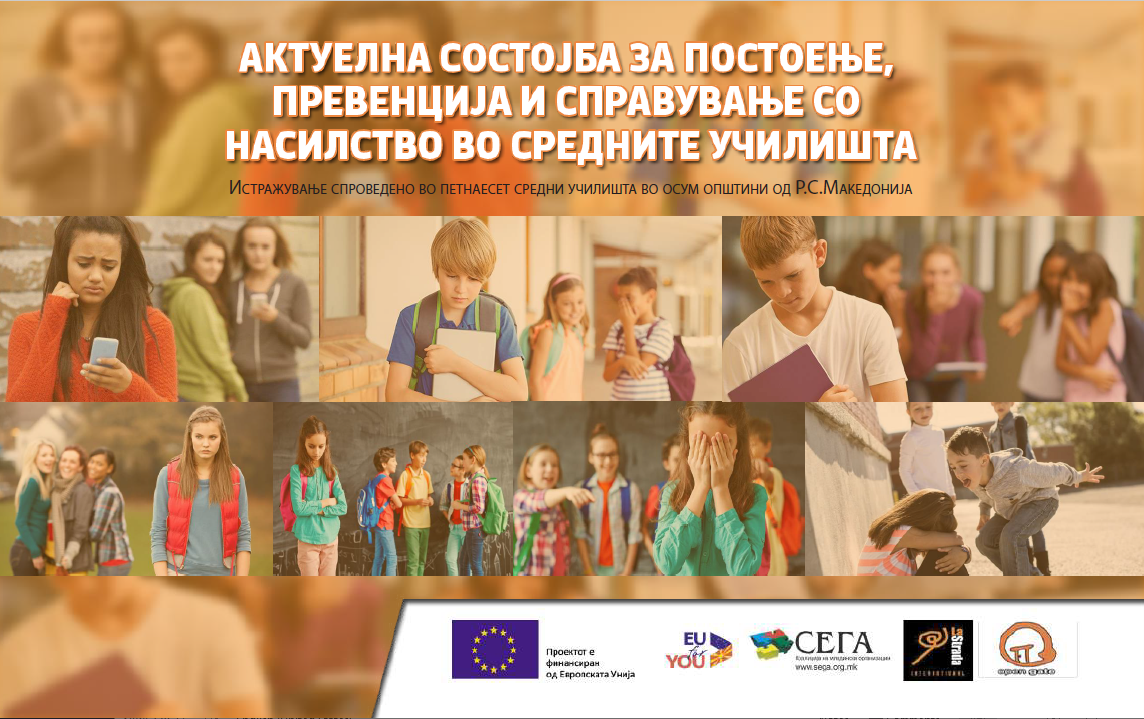 You can find the hole Publication on the following link.
This event is part of the SEGA Coalition project "Recognize, Prevent and Apply Ant-Violence Measures", supported by the grant program of the Strategic Partnerships for Developing a Social Change Agenda project: Recognize, Respect and Exercise Rights. by the Association for Action against Violence and Human Trafficking Open Gate funded by the EU.
---